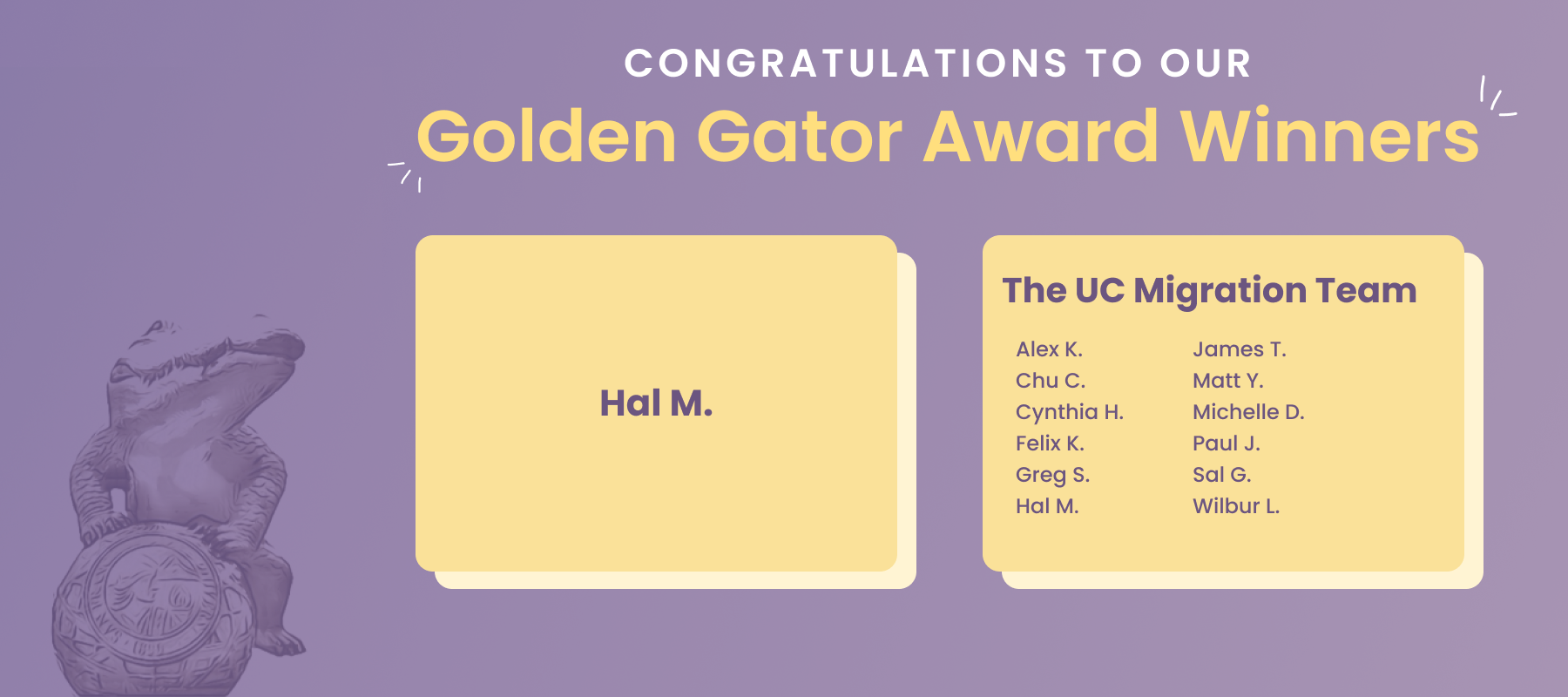 Shout-out Recipients
January 1, 2022 - March 31, 2022 (Q1)
Networking Team
nominated on 3/14/2022
ITS Networking team are working tireless to support UC migration. Switches setup, install desk phones and training for customers. Great work to move UC project forward and close to finish. 28 of 31 building has been migrated.
Liandra N. & Michelle M.
nominated on 3/10/2022
Huge thanks to Liandra and Michelle for their extensive work supporting 2FA for students. Their support spanned thousands of tickets and zoom sessions, throughout the week and weekends. They helped train support staff to handle the ticket surge. They provided valuable feedback to improve the implementation. They outlined updates to the phone tree to improve support paths for customers. And did all of this with a positive attitude! Excellent stuff and true commitment to the students. 
Gilgamesh J.
nominated on 3/10/2022
Since Gilgamesh has joined ITS, he has brought a positive attitude to all the meetings, customer encounters and communications. He has worked hard to learn new skills and has been eager to help the team. Very grateful for the contributions he has made and his eagerness to help.
Hal M.
nominated on 3/10/2022
Hal is always somewhere doing something to support ITS and the campus. He's run miles of cable, repaired or replaced countless face plates, and tests and terminates connections everywhere on campus. Hal worked tirelessly to ensure the integrity of the fiber-optic and copper cabling, frequently stepping in after remodeling has started and salvaging what he can.
ITS Telecom Team
nominated on 3/10/2022
The Telecom team has worked tirelessly to migrate 28 out of 31 campus buildings and Tiburon and Downtown Campuses. Much or the programming work needs to be done after hours to limit the impact to customers. The team also offers almost daily drop in zoom sessions to assist with migration and installation support.
Elsie B. & Alexis W.
nominated on 3/09/2022
The Fall Semester of 2020 brought on new work for ITS, in the form of Student Password Reset codes.  This work was previously performed by the Registrar and was handed over the ITS in August 2020.  Alexis W. and Elsie B. stepped up to serve as primary support for this function. They have gone above and beyond to provide seamless support throughout the transition.
Sterling S.
nominated on 3/04/2022
Good afternoon, I called this afternoon and was assisted by Sterling who did a FANTASTIC job at assisting me through the process. I had missed the earlier call from the representative (Michelle) and I was still unaware about how to login from my new phone. Thank you, thank you, thank you STERLING! And the SFSU IT Department for taking the time, energy and expertise for dying due diligence at providing such exceptional support. Sterling was a breath of fresh air! He answered promptly during lunch hour and stayed on the phone with me for over 20 minutes. I was in a panic and he was incredibly supportive, kind and patient with me, going the extra mile. I sincerely appreciate your assistance and guidance with resolving this matter.
James T.
nominated on 3/03/2022
Very helpful when I ask questions.
James T.
nominated on 3/03/2022
James is always on top of the customer needs! He is my main IT contact in the past 7 years at SFSU.
Bernie B., David L. & Ivan W.
nominated on 3/03/2022
These guys have been essential when it comes to the development and integration of COVID-19 immunization data stored in Student Health Point-n-Click system into PeopleSoft CS and HRMS. The integration of this data has been crucial in assisting campus re-entry after shelter-in-place for the entire campus community.
Hugh H.
nominated on 3/03/2022
Conversion of legacy Oracle PL/SQL procedures/functions called CSTAT which was developed in old SIMS/R to determine current students and employees. This code is currently being used to provision account access, which poses potential security risks. In order to mitigate security risks, Hugh created new database views to replace antiquated legacy code, so that Custom Apps and Systems Teams can the new database views to determine account access. He is collaborating with both teams to assist with converting their code.
Arsenio H.
nominated on 3/02/2022
Always prompt (pleasant & professional) in responding
Arsenio H.
nominated on 3/02/2022
Arsenio, a very dedicated IT members, goes above and beyond to resolve any issue I encounter with CFS, always there is a solution when I reach out to him. Thank you Arsenio!!
Tim C.
nominated on 3/02/2022
At 3/2/2022 MPP Meeting: From Jesus Garcia to Everyone 09:33 AM Thanks Cloud Application team and the interim leadership at the time. Tim Cho should wear a cape like a superhero From John Gates to Everyone 09:35 AM Tim is always a ITS hero These kudos are in response to the QA team's successes in rolling out OnBase-related improvements across campus.
Ryan J.
nominated on 2/28/2022
Just want to take a few minutes to let you know about the outstanding technical support that I received from Ryan Jodatian late yesterday. My spreadsheet that I was working on disappeared and I thought my work was done. By the time Ryan saw my request, it was almost 5pm & he offered to help at the off-hour. And he resolved my problem in lightning time!! He's a great asset to your team!
Jeff M.
nominated on 2/10/2022
Our recent migration to Drupal 8 resulted in broken graphics in a number of our Knowledge Base articles. I mentioned this issue at our standup meeting and Jeff reached out to me and said he thought he might have an answer about the broken links. He offered to chat after standup to talk about it. We met and he showed me what he thought would work, and he worked out a query that would provide a list of all of the KB articles with broken graphics. He sent me a spreadsheet with all the data after he performed the query. In addition to this, he created a short video that I could refer to which showed step-by-step what to do. After watching it a few times, I was able to fix the broken graphics by memory. Jeff is always thinking outside the box, always listens to our issues, and even if it's not his job to solve, he offers help because he cares so much about us getting things right. I will be forever indebted to Jeff for taking the time he did to help me resolve this issue when I never asked for help - I was just reporting an issue that I had to figure out how to get resolved. Jeff is a super hero!
Scott & Lori
nominated on 2/3/2022
Your team was really supportive in getting out an all-campus email for me (Lori), as well as addressing an issue I had in getting into an account (Scott). You've got a great team! All the best, Jason (Porth)
ITS Site Migration Team
nominated on 2/3/2022
Team members: Scott, Andrea, Elsie, Evelynne, Jessica, Lin, Lori, Mich and Srikanth
Migrate ITS Website to Drupal 8 I want to acknowledge this highly collaborative team for successfully migrating the ITS website to Drupal 8. Led by Scott Nemes, this project involved: - Reducing the number of ITS web pages from over 850 pages to just under 100 pages - Enhancing the look and feel of the ITS website by taking advantage of Drupal 8 Pattern Lab components - Developing content management skills across IT team members - Establishing a content management structure for our website moving forward Congratulations team on a job well done!
Leah R. & Greg S.
nominated on 2/3/2022
I wanted to acknowledge Leah and Greg for their outstanding work ethics and dedication to SFSU. They have been great to work with in setting up the IT work at our new downtown campus at 160 Spear and in helping us to close down the old downtown campus at 835 Market as we are under a deadline to move out. Thank you & happy holidays, Hamid Hamid Ghaemmaghami CCIM, CPM, SR/WA.
Student 2FA Project Team
nominated on 2/1/2022
Team members: Nish M., Shawn H., Liandra N., Dmirty V., Scott N., Michelle M., Basha N., Sterling S., Sarah Y., James L., Wilbur L., Elizabeth S., Ryan J., and Nat K.
I am grateful to work with this talented team and want to recognize all of the hard work that has gone into the Student 2FA Project. Many dedicated ITS staff and leaders came together to make this happen and to minimize the impact to students and the campus overall. Leadership across the campus has also recognized the tremendous effort. Katie Lynch, SAVP for Enrollment Management said, I ditto Nish's thanks and appreciation for this enormous effort! I really enjoyed working with you all and appreciate your organization around the project (go Shawn!).This worked out better than I could have imagined!
William M
nominated on 1/21/2022
I was having issues with a feature in Drupal 8 and could not figure it out on my own. William suggested we meet over Teams to take a look. During the meeting he both showed me how to do what I was trying to do and then watched me try to do it on my screen. That's not the reason I am giving him a shout out. The reason is that throughout the whole process, as is always the case with William, he was patient, positive, encouraging, reassuring, and focused on making sure I understood everything and accomplished what I needed to do. He said there is always a solution to a problem and he is always there to help, and that in and of itself is the kind of attitude you want when you are needing help. Thanks, William! I don't know what we'd do without you.
About Shout-outs
The ITS Shout-out program recognizes ITS employees for going the extra mile at work and striving to make our department better.
Nominate an ITS employee today!
Golden Gator Synopsis
Every quarter ITS selects a staff member(s) or a team as a recipient for our Golden Gator Award. The winner(s) will be announced at our quarterly Town Hall meeting.
How Does it Work
If a person or team provides excellent service or leadership, you can nominate them for a shout-out on our shout-out page. There are several categories to choose from when submitting a nomination, including Calm in the Eye of the Storm, the Behind the Scenes Wonder, Above & Beyond the Call, Customer Whisperer, Unwavering Dedication to Service, Unexpected Leader, and other, where you may write in another category of your own choosing. Once you select your preferred category, you can then compose an explanation behind your shout-out submission. Please include your name, department, and email address.
Below is an example of what a nomination may look like:
Jane Doe
nominated on 12/1/2020
Kindly be informed Jane helped us tremendously to resolve one issue in CS. We would like to give our sincere special recognition to them. Without their expertise and willingness to help this communication would not be going out today. I appreciate their efforts more than I can say.
What Happens Next
Once we receive your nomination, we will notify the nominee(s) and their supervisors letting them know they've been nominated. ITS will then post the nomination to our ITS shout-out wall. The shout-out will be listed under the quarter in which they were received. At the end of the corresponding quarter, ITS's Staff Advisory group and one member from outside ITS will meet to vote on all the nominations received. Based on the tally of votes, we will determine who will receive our Golden Gator Award for the quarter. We will then notify you that your nominee was chosen as a winner. The winner(s) will be announced at our Town Hal meeting and listed as such on our shout-out wall. 
View previous recipients
2020
2021