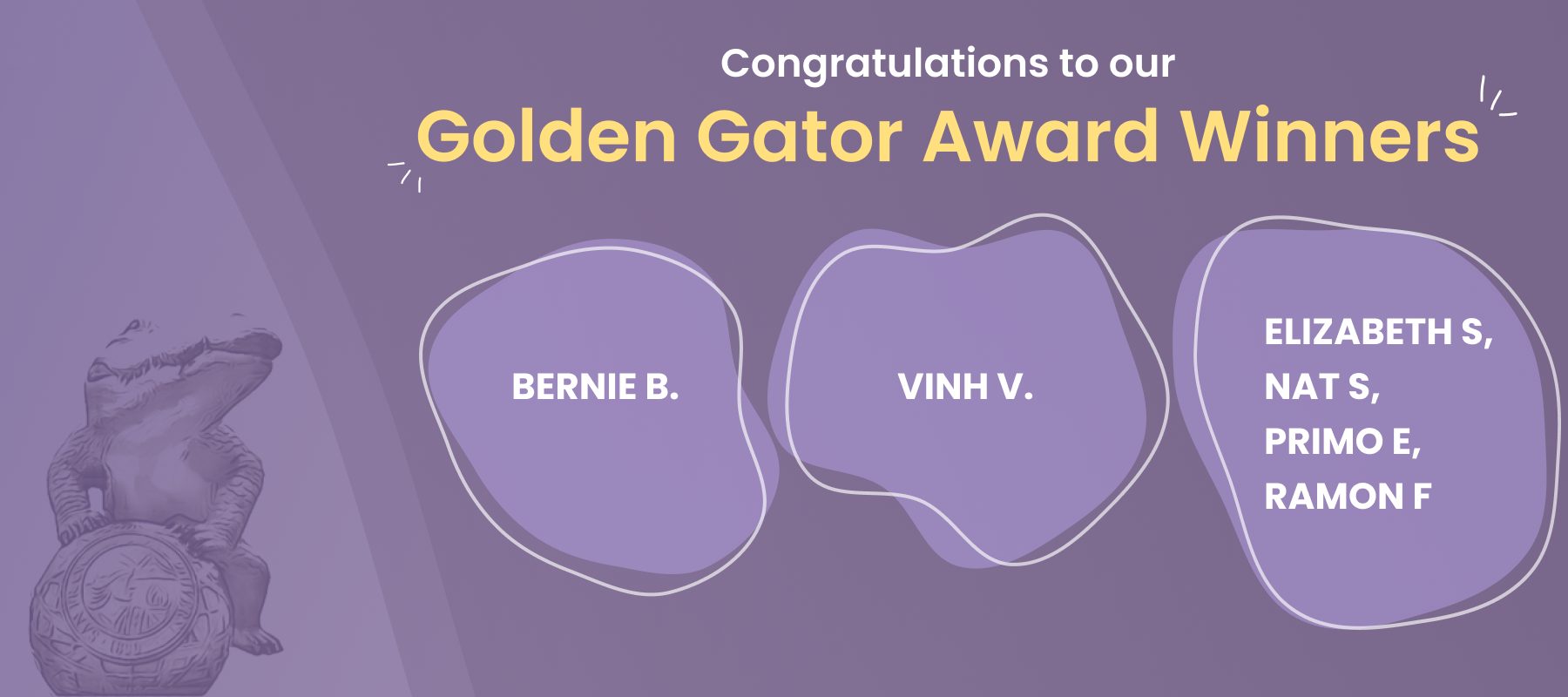 Shout-out Recipients
October 1, 2021 - December 31, 2021 (Q4)
Ken P
nominated on 9/10/2021
Provided detailed documentation and training on the OnBase upgrade procedure for the systems apps team.
Bernie B
nominated on 10/15/2021
Bernie logged in on his day off, unasked, to package and submit a last-minute RFC request for the Access Management 2020 project. The RFC covered over 433 staff and faculty members at the SF State colleges representing a significant portion of the project volume. Due to his willingness to work over and above what is expected, the AM2020 project will surpass 50% completion before the start of the holiday season when many employees are unavailable. My deepest appreciation for Bernie's dedication to the project.
Liandra N
nominated on 11/5/2021
I recently served on a jury for 12 business days and Liandra served as my backup for communications. It was a very busy time with a lot of UC project communications lined up during the time I was out. I also needed her to handle the IT Digest that goes out each Friday, and any emergency communications that came in while I was out. It turns out that all of the above had to be handled and that Liandra did so effectively, efficiently, and with a great attitude. Liandra is really really busy with Service Desk responsibilities and particularly with the Service Desk being short-staffed currently, I am immensely grateful for her assistance in taking on my work while I was on jury duty. There was no way to know how long jury service would last, and 12 business days is, in the world of IT communications in particular, a long time. Sincere thanks to Liandra for handling everything so beautifully!
Vinh V
nominated on 12/2/2021
Vinh works so hard. She works non-stop to ensure many different items, that many don't realize, are kept up and running. Without Vinh's support, we wouldn't be able to distribute hot spots, get our paychecks, have a cell phone, or conduct business as usual. Vinh works so quickly and efficiently and I want her to know I see her! Thanks, Vinh. You're better than any AT&T rep. 
Sandy S
nominated on 12/2/2021
Did you order something from Amazon? Did you need supplies from anywhere? Then we should be thanking, Sandy! Sandy ensures that all of your supplies are ordered and make it to your desk. Without Sandy and her PCARD, none of us would ever get the supplies we need. I don't think some realize how important a contributor she is to our team. Thanks, Sandy! 
Alexis W
nominated on 12/2/2021
Alexis is an extremely important contributor to team ITS. Alexis is the first point of contact for all new hires and potential new hires. Alexis is awesome and an all-around Business wizard. She's a lot of the reason our staff even come on board. She's kind, funny, and wicked organized. She delivers bomb coverage to our customers on the reset line too. I'm not sure if many realize how many hats she juggles. I'd lock myself out of my account just to get to talk with her again. Keep up the good work, Alexis. Thank you for all you do, including keeping our office smellin' fresh! 
Elsie V B
nominated on 12/2/2021
Elsie is a real gem to have in ITS. Elsie is always down to lend a helping hand wherever and whenever she can. She works extra on our password reset line, is the official ITS keeper of the keys, and is the Facilities liaison. Any work order that needs to go to them, has likely passed through Elsie. Elsie has been instrumental in helping with the new ITS website migration, HEERF funding/ordering, and getting rid of tons of EWaste. Without Elsie, we wouldn't have the storage for all the HEERF supplies or the proper materials to support our Service Desk. Thank you, Elsie. You rock! 
Sarah Y 
nominated on 12/2/2021 
Sarah is such a great leader. She works extremely hard on making sure ITS has the funds we need to provide top-notch customer service and adequate supplies. She is always supportive of her team and encourages opportunities for growth where possible. Thank you for being a great leader, Sarah. I appreciate you. 
Felix K
nominated on 12/2/2021
Get work done at any conditions
Sal G
nominated on 12/2/2021
Sal is great team player, fast learner of his new role and keep his old duty maintained on time. Never look on clock if job need to be done.
Primo E
nominated on 12/14/2021
Primo coordinated SF State's successful migration of Campus Solutions & Human Resources non-production environments from CMS Equinix data center to AWS. He was able to independently carry out this task despite not having SF State's TUG representative as an available resource for a period of time.
Bernie B, David L, Ivan W
nominated on 12/14/2021
ITS Enterprise Applications team members were able to deliver in time (October 27, 2021) a CSU-mandated deliverable of providing COVID-19 campus vaccination data for reporting purposes. The campus used a vendor, Point and Click, to collect campus vaccination info. The team was able to import data provided by vendor into required Campus Solutions tables to facilitate reporting by Chancellor's Office to CSU Senior Staff.
Sahull B N
nominated on 12/15/2021
Enable SSO for Qualys quickly. Helped with Powershell scripting for AD.
Elizabeth S, Ramon F, Primo E, Nat K
nominated on 12/16/2021
Adding a new feature to the Online CEL Shopping Cart that will allow students to add academic credit classes offered through CEL. Until this point, CEL has had to manually add these classes for students.
Kevin Y
nominated on 12/16/2021
Unwavering Dedication to Service
William M
nominated on 12/16/2021
William worked up to the last minute to ensure that the Cyber Security Awareness Month 2021 website was available by the October 1, 2021 deadline. He collaborated with the Cyber Security Awareness team, the Drupal Team's student assistant and with me to ensure that the content, navigation, graphics, Zoom screen backgrounds were accurate. Thank you William for helping us promote this important campaign!
Nat K
nominated on 12/16/2021
In Q4, Nat juggled multiple priorities and led the team that completed six Gateway enhancements and the Appsian Redo project by the deadline. He also participated in the UX Designer search and completed urgent custom app improvements including, several Instruction Mode change requests for the Class Schedule and updates to the 2FA Bypass code app to help reduce service tickets.
James L
nominated on 12/16/2021
Setting up Duo 2FA integration with Azure SSO and leading efforts to mitigate security vulnerabilities
Basha N
nominated on 12/16/2021
Making significant progress for enabling Azure SSO and setting it up for the pilot group
Joey D
nominated on 12/16/2021
Dealing with enormous volume of access service requests
Ryan K
nominated on 12/16/2021
Ensuring effective service contingency and continued timely processing of the requests after one member of the Windows team left
Qun L
nominated on 12/16/2021
Ensuring effective service contingency and continued timely processing of the requests after one member of the Windows team left
Ken P
nominated on 12/16/2021
Ken was the lead tech resources to set up new OnBase EP3 infrastructure, and is being passionate about information security and provided early warning to the team about important security vulnerabilities
About Shout-outs
The ITS Shout-out program recognizes ITS employees for going the extra mile at work and striving to make our department better.
Nominate an ITS employee today!
Golden Gator Synopsis
Every quarter ITS selects a staff member(s) or a team as a recipient for our Golden Gator Award. The winner(s) will be announced at our quarterly Town Hall meeting.
How Does it Work
If a person or team provides excellent service or leadership, you can nominate them for a shout-out on our shout-out page. There are several categories to choose from when submitting a nomination, including Calm in the Eye of the Storm, the Behind the Scenes Wonder, Above & Beyond the Call, Customer Whisperer, Unwavering Dedication to Service, Unexpected Leader, and other, where you may write in another category of your own choosing. Once you select your preferred category, you can then compose an explanation behind your shout-out submission. Please include your name, department, and email address.
Below is an example of what a nomination may look like:
Jane Doe
nominated on 12/1/2020
Kindly be informed Jane helped us tremendously to resolve one issue in CS. We would like to give our sincere special recognition to them. Without their expertise and willingness to help this communication would not be going out today. I appreciate their efforts more than I can say.
What Happens Next
Once we receive your nomination, we will notify the nominee(s) and their supervisors letting them know they've been nominated. ITS will then post the nomination to our ITS shout-out wall. The shout-out will be listed under the quarter in which they were received. At the end of the corresponding quarter, ITS's Staff Advisory group and one member from outside ITS will meet to vote on all the nominations received. Based on the tally of votes, we will determine who will receive our Golden Gator Award for the quarter. We will then notify you that your nominee was chosen as a winner. The winner(s) will be announced at our Town Hal meeting and listed as such on our shout-out wall. 
View previous recipients
2020
2021