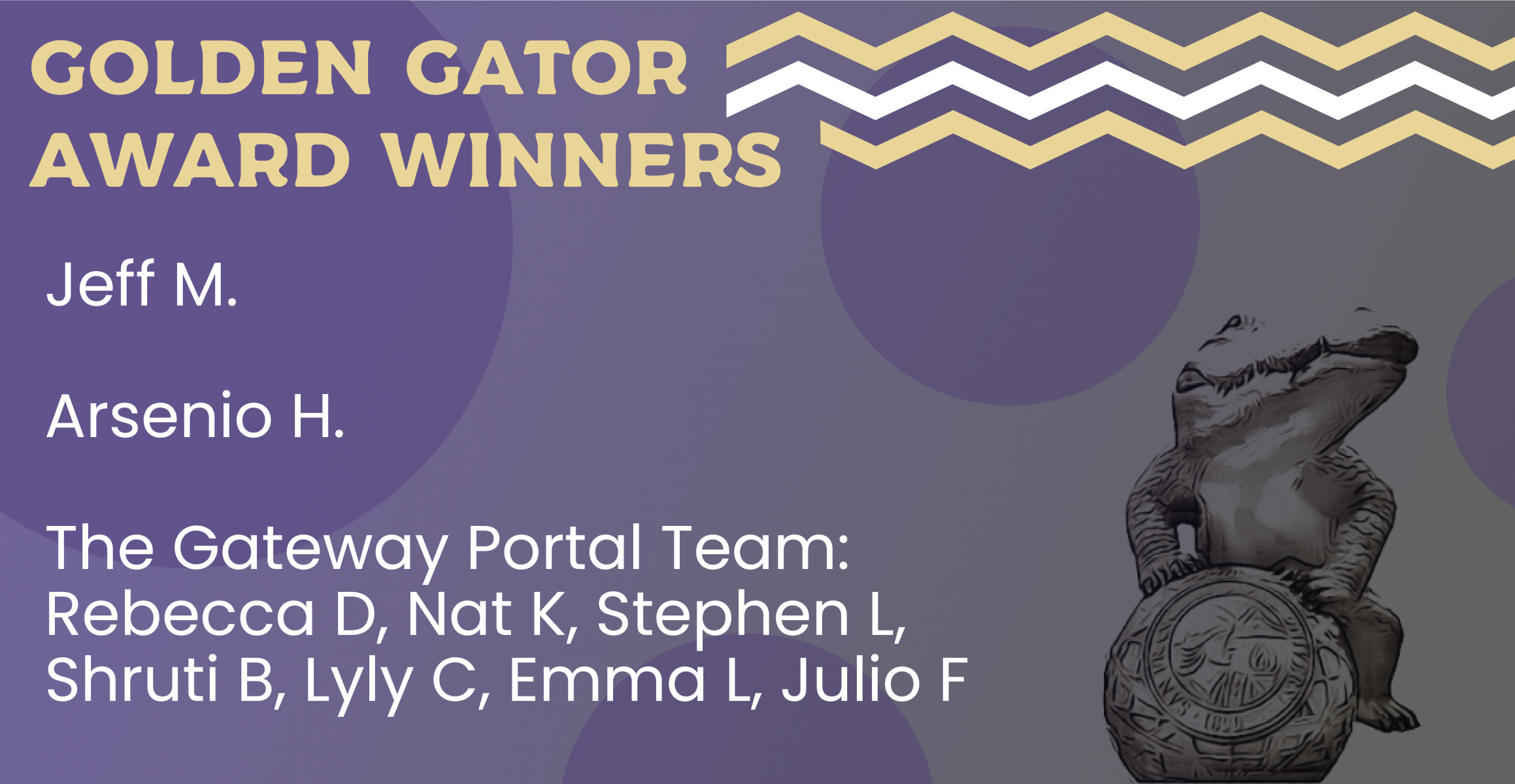 Shout Out Recipients
April 1, 2021 - June 30, 2021 (Q2)
---
Arsenio H
nominated on 3/12/2021
Arsenio created a script that helps Procurement Office to ingest supporting documents, from the 3 different folder document types, into OnBase without much manual labor effort. Without him and his script, PSS would need to manually upload all supporting documents in OnBase. Thanks, Arsenio!
---
Tram T
nominated on 4/21/2021
Tram has been truly a behind the scene warrior for the Drupal team. She is someone coming in from non-Drupal background. The team totally appreciates the way she has taken on Drupal tasks and related support tasks. For someone without much of a web background, Tram has shown she can learn things quickly even if it is out of her expertise area. What stands out is the willingness to keep taking on newer tasks every round and the eagerness to keep learning new things. She has enabled the Drupal team to make progress on existing projects by not only helping on existing projects but also taking on majority of the support work that comes in. Thank you Tram for everything you do. We hope we can keep you long term in our team!!
---
Peter S
nominated on 4/28/2021
Peter is new and in a very complex role. He is stepping and contributing in record time.
---
Jeff M
nominated on 5/3/2021
I wanted to take a moment to tell you how helpful Jeff M was. I received word Tuesday morning that I needed access to this and needed it by the afternoon tech run. Jeff was responsive and very patient and ensured that I was all set for the event. And then today he made time to remove it from my laptop.
---
Michelle M
nominated on 5/3/2021
Michelle's team did an excellent job! This will make asking questions & tracking purchases more streamlined and low impact and makes providing documentation much easier.
---
Krzysztof K
nominated on 5/3/2021
Krzysztof has helped onboard so many EM team members in a remote environment! He has been incredibly patient and hard working to make sure we all have what we need.
---
Matthew Y
nominated on 5/6/2021
With the myriad of staffing changes and other complexities facing the UC project, Matt has stepped up to oversee most every facet of the the project, while still remaining a strong advocate for the UC project team members, alleviating the very heavy project workload wherever and whenever he can. He has been instrumental in moving the UC project forward.
---
Felix K
nominated on 5/6/2021
A true behind-the-scenes-wonder: Felix is the UC project's hands and eyes on the physical campus. He works endlessly behind the scenes to ensure devices are configured, placed, labeled, etc., throughout the entire SFSU campus - which is certainly no small feat.
---
Wilbur L
nominated on 5/10/2021
Wilbur continuously delivers excellent work for the UC project. He keeps a positive mindset and he cares deeply for the work that he does. Wilbur provides an unwavering dedication of service for every single campus individual who has migrated to the new system and is always willing to help out where he can; and he does so willingly, on top of his already-full work
---
Alex K
nominated on 5/10/2021
Alex's unwavering dedication to the UC Project has been instrumental in being able to migrate the campus in the swift pace the team has been working at thus far. He is always willing to put the time and effort in to get everything set up properly to make all runs as smoothly as possible.
---
Cynthia H
nominated on 5/10/2021
Cynthia goes above and beyond - especially when it comes to UC training and communications. With little to no direction, she was single-handedly setting each campus member up for success in using the new UC system through her helpful training sessions and thorough communications.
---
Greg S
nominated on 5/10/2021
Greg continuously advocates for the campus and ITS in his interactions with vendors for the UC project. He has been instrumental ensuring we receive appropriate solutions for any issues that the UC project has encountered. Greg is a fierce advocate for ITS and a great team player - we're glad we have him on our team.
---
Ming Z
nominated on 5/11/2021
Ming is always willing to help others and is thorough in her work. She meets her deadlines and I do not worry about the quality of her work. She recently delivered on creating a process for the Budget Office to manage tuition payment files from Flywire payment platform. It's always a pleasure working with her and she's been an unsung hero for the team.
---
Arsenio H and Hugh H
nominated on 5/11/2021
Hugh and Arsenio were part of a team to assist with the data integration to the Starrez Cloud. This was a critical integration and they did an awesome job collaborating with the Cloud Team to help them meet their goals.
---
Andrea G
nominated on 5/11/2021
Andrea has been working with me on the ITS quarterly reports that we market in CampusMemo. We just completed the Q1 2021 report and Andrea had learned so much from the Q4 2020 report that with this one she was able to really take off and own more of the process. She always tries to learn as much as she can about what ITS does and why it matters, which gave her more knowledge to work from this time around as her knowledge has increased exponentially. She is never afraid to ask questions to get clarification and is always eager to learn and be helpful. I don't know what I would do without her by my side!
---
Rebecca D
nominated on 5/11/2021
I have been working closely and regularly with Rebecca on the Gateway Redesign project. We have been meeting regularly about the communications aspect of the project, as well as including me in user testing. This project has a lot of moving pieces and lots of backend work and she has kept things organized and moving forward to help bring to campus the AWESOME redesigned Gateway. The communications work we collaborated on went extremely smoothly, questions were answered quickly and calmly, and she was really on top of things. As a result of her myriad skills, the preview was communicated and marketed to all avenues of communication deemed important to let campus know of this great achievement. Kudos to Rebecca!
---
Lin L
nominated on 5/13/2021
I just wanted to send you a note about Lin L. My staff and I had the privilege of working with Lin recently. This was regarding our new Drupal 8 Advising Hub website that just went live. We experienced a setback where we needed to manually recreate 114 pages from scratch. We quickly reached out to Lin and he was super helpful in listening to our concerns and then developed a new workable solution (which is excellent). We are especially grateful for Lin's friendly demeanor, strategic thinking, and support during a time of immense pressure on our end as well as his end. I wanted to personally let you know that he was a phenomenal resource given the urgency of what we needed to happen in support of all current and new incoming students. We hope you will let him know that he is appreciated and we're thankful to have a campus partner like him on campus.
---
Nat K
nominated on 5/19/2021
Thanks for Nat's extremely agile support of this issue. In a matter of 2 days, we have refined the selection criteria for the custom web search, which reflects the Fall return to campus initiative for students. My team work with Academic Resources on the selection criteria and Nat was able to update in almost real time to get the testing moved to sign off stage. Right now he is working on the emergency RFC and planned push to production. This effort helped the campus address a need for students as well as prevent negative feedback on social media of the service the University provides. Nat kept us timely and reflective of the current changing conditions. Per Katie, the SSGI committee are very thankful for this work.
---
Nat K
nominated on 5/21/2021
Gateway Redesign Preview - Nat is the technical lead for the project and went above and beyond throughout the project, most recently after the UX designer retired end of Q1, and worked extra to make sure everything was working and completed before the soft launch on May 7th. The feedback survey has about 95% approval rate of the new Gateway. The project would not have met the deadline without Nat's extra efforts. He is a valuable and amazing person to work with and feel so blessed to have him on the team!
---
Rebecca D., Stephen L., Shruti B., Julio F., and Lyly C.
nominated on 5/24/2021
Gateway Redesign Project - I want to make a huge thanks to everyone in the team in dedicate time and work really hard for Gateway Redesign Project on time and also get highly positive feedback from users. All the development work has been done during the pandemic while we also work on several other projects in parallels to support other teams and return to campus. This project wouldn't be complete without huge collaborations of the whole dev team and PO who wearing multiple hats since UX lead no longer with us.
---
James T
nominated on 5/27/2021
James is the talk-me-off-the-ledge expert. I manage multiple SFSU emails and was being signed out with Duo over a few days where I had to sign in repeatedly for each mailbox, every 30-60 seconds! I'd ignore, ignore, ignore until I expected a bunch of email responses and noted I was logged out again. Tried everything; updated software, cleared cache, rebooted, rebooted again, then panicked. Thought it was a Duo issue, or a laptop issue, or a me-issue. My Outlook was acting erratically (as was I). Called ITS - Liandra diagnosed and put me in touch with James and he calmly explained this was a known Outlook glitch and walked us through the fix. Tada! Panic averted, issue resolved, all calm has returned. Thanks, James 007!
---
Nat, Rebecca, Stephen, Shruti and Lyly
nominated on 5/27/2021
I'd like to acknowledge the Gateway Redesign core project team for working hard to modernize the Gateway to be both aesthetic and functional. This year plus long collaborative project that was thoughtfully designed and tested by a number of key campus departments, as well as, faculty, staff and students. Based on preliminary Gateway Preview feedback, the responses are positive and the redesign is well-received. I included Nish's response below.
Team,
Wow….the Gateway redesign looks great and you surely have knocked this one out of the park. Congratulations and many thanks to our ITS colleagues mentioned below for their excellent work and contribution to this initiative.

Web & Mobile Applications (core project team):
Rebecca Diaz
Supakit (Nat) Kiatrungrit
Stephen Long
Shruti Bhandakkar
Julio Feliciano
Lyly Chen
 
William Mac
Emma Loveless
 
Service Desk:
Lori Brooks
 
EAM/ERP:
Ivan Wong
Hugh Huang
Bernie Brown
 
PMO:
Shawn Hicks
 
Systems:
Marlon Rensch
Andrea Nguyen
Basha Nagore
Peter Semenchuk
 
Business Services:
Andrea Gerlach
 
Thank you team and Michelle Anolin for your leadership on this much 
needed change/initiative.

Sincerely,
Nish

---
Arsenio H
nominated on 6/4/2021
Instrumental in getting the Auxiliary printer back on line which had been over an 8 month process. This required dealing with the vendor of the printer and troubleshooting, communicating with Wells Fargo and the CO. This required numerous communications, and testing in order to get to the final resolution.
---
Lori B
nominated on 6/8/2021
Lori has been a tremendous help with the Gateway redesign project. We've been meeting weekly since February 10, 2021 on the launchpad content and the communications for the project needed to get the word out. Lori's perspective and edits has made a huge difference. The language on websites is not appreciated enough. She has been such a valuable resource to the team and project. I cannot thank her enough.
---
Sandy S
nominated on 6/9/2021
I wanted to recognize Sandy for helping me with the Appsian ERP Firewall renewal. Her deadline reminders are so helpful and fits Procurement's busy schedule. She also facilitates communications between the vendor, Procurement and me. She also recently helped me with the Sole Source ModoLabs renewal which was new for me but she made the process so easy. Completing these renewals on time keeps our products and services continually up! @Sandy, thanks for your ongoing help! I couldn't do it without you!
---
Bernie B
nominated on 6/10/2021
Bernie has helped our team behind the scenes with the Gateway redesign switchover enhancing SSO security for HCM/HR. He has been instrumental in all things to get the Appsian product installed and upgraded on web servers for HR. This has enabled functionality to increase security on HR's admin pages. Bernie further contributed putting together the move to production steps for all teams involved - ERP, HR, and Custom & Mobile - which will be vital for go live 6/81/21.
---
Stephen L
nominated on 6/10/2021
I've seen a positive change in Stephen the past few months. He really stepped up after the UX position became vacant (Julio retired), giving guidance on issues that arose with the Gateway redesign project and demonstrating the new Gateway to the ITS Directors and Jeff Wilson. The latter was unexpected but he did an excellent job.
---
Michelle M
nominated on 6/10/2021
Michelle continues to go above and beyond. She continues to provide great customer service getting recognized by her customers. Beyond daily support demands, Michelle successfully delivered the ServiceNow for Procurement application, hosted an IT Outreach training for campus on IT Resources, and continues to work on the Xerox refresh and A&F print server roll out. She also provided Service Desk phone coverage while Liandra and the students were out of office. Thank you for your exceptional work and commitment!
---
Jeff M
nominated on 6/10/2021
Jeff was pulled into a last minute event to assist the President with a live streaming AmongUs game on Twitch. This was part of the class of 2021 events and a high profile event. This is certainly not a standard service provided by ITS but Jeff was committed to ensure things went smoothly for President Mahoney. Jeff received praise for his work and also continued to ensure President Mahoney's computers were up to date. Thank you Jeff!!
---
Liandra N
nominated on 6/10/2021
Liandra continues to excel in her role in ITS. She successfully balances overseeing our student helpdesk and provides guidance to the students. She identifies improvement opportunities and solutions, rather than simply citing problems. She keeps a pulse on issues coming into the service desk, and is quick to escalate trends affecting service, such as 1000s of bogus accounts created in CS, compromised accounts trend, and meal plan issues. She is quick to provide support for questions that arise on the password reset code support team. She truly cares about improving the campus experience for students. Thank you Liandra!!
---
Alexis W and Elsie B
nominated on 6/10/2021
Thank you Alexis and Elsie for your continued service for campus password reset code support. I appreciate how you raise questions via MS Teams to the overall team and keep the lines of communication open to ensure continued coverage on the password reset line. Well done!!
---
Shruti B
nominated on 6/10/2021
Shruti did a wonderful job in the Gateway redesign project with not just developing but training and documenting on the Admin side of the application. She developed the announcements and links features. These two allow specific users the ability to post announcements and update the links that belong to specific departments/users. She not only conducted several training sessions and provided documentation but helped stakeholders before the May 7th preview launch. This ensured announcements were ready and displaying to our huge student population.
---
Bill B
nominated on 6/10/2021
During routine security report analysis, Bill identified what appeared to be a large scale phishing campaign and single-handedly launched the compromised account process for over 90 SF State student accounts within a very short time span. He also locked the accounts and changed the passwords to ensure the accounts were not used to target additional users. The speed at which Bill reacted was very impressive!
---
About Shout Outs
The ITS Shout Out program recognizes ITS employees for going the extra mile at work and striving to make our department better.
Nominate an ITS employee today!
Golden Gator Synopsis
Every quarter ITS selects a staff member(s) or a team as a recipient for our Golden Gator Award. The winner(s) will be announced at our quarterly Town Hall meeting.
How Does it Work
If a person or team provides excellent service or leadership, you can nominate them for a shout-out on our shout-out page. There are several categories to choose from when submitting a nomination, including Calm in the Eye of the Storm, the Behind the Scenes Wonder, Above & Beyond the Call, Customer Whisperer, Unwavering Dedication to Service, Unexpected Leader, and other, where you may write in another category of your own choosing. Once you select your preferred category, you can then compose an explanation behind your shout-out submission. Please include your name, department, and email address.
Below is an example of what a nomination may look like:
Jane Doe
nominated on 12/1/2020
Kindly be informed Jane helped us tremendously to resolve one issue in CS. We would like to give our sincere special recognition to them. Without their expertise and willingness to help this communication would not be going out today. I appreciate their efforts more than I can say.
What Happens Next
Once we receive your nomination, we will notify the nominee(s) and their supervisors letting them know they've been nominated. ITS will then post the nomination to our ITS shout-out wall. The shout-out will be listed under the quarter in which they were received. At the end of the corresponding quarter, ITS's Staff Advisory group and one member from outside ITS will meet to vote on all the nominations received. Based on the tally of votes, we will determine who will receive our Golden Gator Award for the quarter. We will then notify you that your nominee was chosen as a winner. The winner(s) will be announced at our Town Hal meeting  and listed as such on our shout-out wall. 
View previous recipients
2020
2021